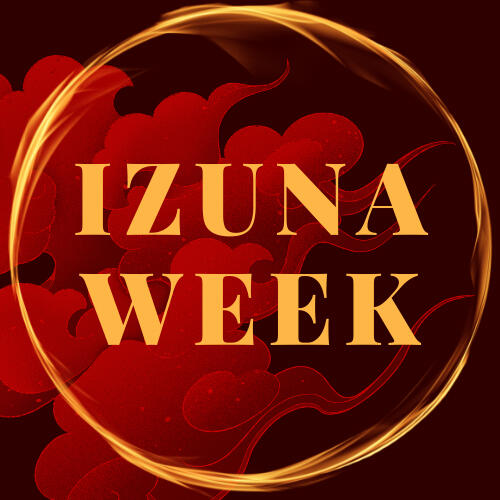 FREQUENTLY ASKED QUESTIONSQ: Who is running this event?
A: Silver & Birdie, with many thanks to Loki for running Izuna Appreciation Week during past years and inspiring this event!Q: When does this event happen?
A: The Izuna Week 2023 will take place in February, from the 4th to the 10th.Q: How does this event work? / How do I submit work?
A: You submit your work by posting it on either Tumblr or Twitter and using @izunaweek (tumblr) or @izunaweek2023 (twitter) to notify us. Please also tag #izunaweek2023 and the prompts you used. If we haven't reblogged/retweeted your post after 48 hours please feel free to remind us via ask!Q: Is [ship/trope/rating/etc.] allowed?
A: NSFW is allowed, dead-dove is allowed, any and all ships are allowed. The only type of content we don't allow is Izuna bashing, as this event is here to celebrate the character. Otherwise, create whatever you feel like creating!Q: What kind of work can I submit?
A: We allow any kind of fanwork. If you're wondering about something specific, feel free to send us an ask about it!Q: Can I submit my work early/late?
A: We'll allow a period of late posting until the end of February. We also allow crossposting to other events as long as our rules are followed.Q: Is there an AO3 Collection for the event?
A: Absolutely! It can be found by clicking on the AO3 icon below.Q: Do we have to create work for every day? / Do we have to use every prompt for the day?
A: No! You're welcome to use as many or as few of the prompts as you like, and you can create for one day, all days, or anything inbetween.Q: Do we have to post on the exact day of the prompt?
A: If possible, please do so the blog is organized according to the days, but we'll accept late postings as well, of course.Q: Is there a required word count?
A: No!Q: Can I submit old work for this event?
A: For this event we only allow new work, sorry.Q: Can I submit work in any language?
A: As long as you follow our rules and tag properly, content in any language is welcome!Q: Do you have any rating or content restrictions?
A: We don't! As long as Izuna is the focus of your work and you tag appropriately, we allow any type of rating or content.
RULESIzuna must be the main focus of the work.The work cannot be focused on bashing Izuna.Work must feature at least one prompt from the event.NSFW and Dead-Dove are allowed.Any content, ships, characters, universes, etc. you can think of are allowed.When posting NSFW/dead-dove, please follow the appropriate censorship/tagging guidelines of the platform.Absolutely no harassment, bullying, or discrimination towards other participants will be tolerated.